Analysis of our performance
The statistics shows in this page is as a result of 182 candidates who responded to our survey.
Our focus and goal is to provide the best service to our customers and improve our way of doing things to meet our candidates satisfaction. We are implementing a ticketing mechanism to keep track of all requests and issues to address. While we are not 100% perfect in providing the services that we promise but we have kept our standards to atleast 90%+ of the candidates who participated on our programs. Our goal is to improve by learning.
Decision Making
Why this program
Value of our Program
Straight from our candidates
While we as a company are satisfied with what our candidates are saying, but we want to reduce the 8% to a much lower number. Our goal for 2016-2017 is to achieve more than 95% satisfied candidates.
Professional Research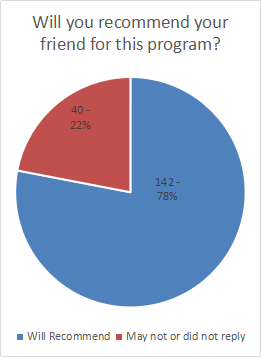 Out of the 182 candidates randomly surveyed 142 of them mentioned they would greatly recommend our programs to their friends. Remaining 40 did not either respond to this question or said No.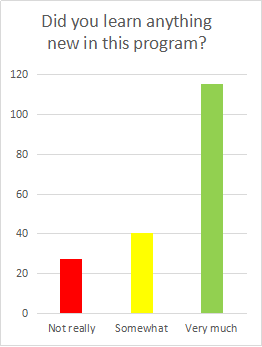 155 out of 182 candidates mentioned they learned from somewhat to a lot from this Implementation program & the remaining mentioned they learned nothing or did not respond to the survey.
Did our SAP Team Leads Help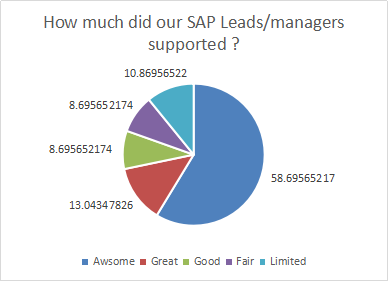 Our focus is that "limited" 10% support to improve better. Our goal is to ensure 100% falls in the upper category